Atlanta Employment Lawyers
Fighting to Protect Employees Throughout the Atlanta Area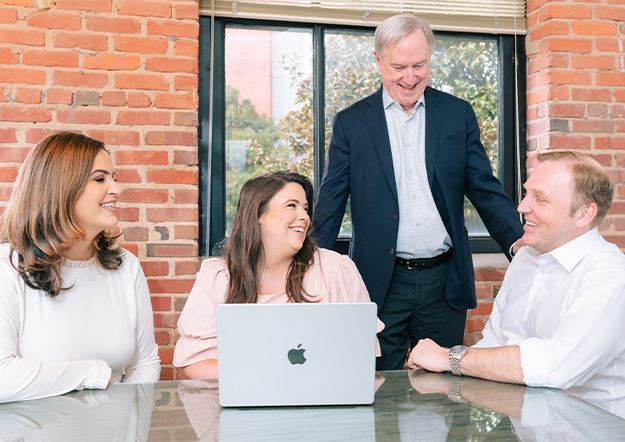 The employment relationship is one of the most fundamental relationships in our society. For employees, it means the opportunity to earn a living and provide for themselves and usually others. It also means the opportunity to apply their talents and experience to a job in which they can enjoy the satisfaction of being productive, improving their skills, and pursuing success. For employers, the employment relationship is nothing less than an essential part of doing business.
The employment relationship is also governed by many important laws which protect employees from unfair treatment and guarantee equal opportunity. The attorneys at Beal, Sutherland, Berlin & Brown understand not only the importance of the employment relationship, but also the full scope of these legal protections. They are recognized by their peers and the legal profession for their excellence in litigation of these claims. And they have courtroom-tested experience securing the damages and other relief the law provides.
Some of the most important employment laws in our country include the civil rights laws that prohibit workplace discrimination on the basis of race, color, national origin, religion, sex or pregnancy, age, disability, or veteran status. They also ban sexual harassment, discrimination against members of the LGBTQ+ community, and disability discrimination, including refusal to provide reasonable accommodations. Beal, Sutherland, Berlin & Brown attorneys have used these laws to effectively fight workplace discrimination for decades, achieving excellent results for countless clients and advancing the law with court decisions that expand protections for everyone. We take these cases because we believe discrimination is wrong, and because we are uniquely positioned to succeed where others fail given the complexity and challenging nature of many of these cases.
Retaliation and Whistleblower Protection
Many of the employment laws also protect whistleblowers and ban retaliation against employees. These laws are critical not only to protect those who stand up for others and do the right thing even when it's difficult, but to further the important policies served by the law. Numerous state and federal laws prohibit employers from retaliating against employees for reporting fraud, misconduct, discrimination, or other violations of the law. Beal, Sutherland, Berlin & Brown have successfully handled many of these cases in the state and federal courts.
Georgia Contracts and Severance Negotiations
Employees and employers often need advice and representation when disputes arise about whether an employee's rights were violated, but they also need advice and representation about the contracts they have. These contracts may include restrictive covenants, more commonly referred to as non-compete or non-solicit provisions, or confidentiality and trade secret issues. Our attorneys have successfully counseled and represented both employees and employers in matters involving these issues and more.
Successfully litigating employment cases requires digging deeply into the details about an employment relationship and the facts and circumstances surrounding the dispute. These cases usually require extensive discovery, including securing and reviewing voluminous documentary evidence and deposing witnesses before presenting the case to a jury at trial. The lawyers at Beal, Sutherland, Berlin & Brown have honed the skills necessary to deal effectively with witnesses, opposing counsel, and the courts to present these challenging cases and win.
Contact Us
Fill out the form or call us today at

(404) 476-5305

.